Full description of the tour you can find HERE

WHEN AND WHERE WILL WE START?
We will start in front of the tourist info kiosk (next to the Main or Sea Gate in the old town) at 8:00. The sailing boat is located in the Port of Kotor, just 100 meters away from the meeting point. The skipper will come and lead the guests to the boats.
WHERE WE WILL GO?
We will see Kotor Bay, Perast, Lady of the Rock. Tivat Bay, St. Marco Island, Our Lady of Grace, and Porto Montenegro.
KOTOR BAY


After boarding we will start to sail to Perast which will take about an hour. Guests will enjoy the lovely panorama of Kotor Bay and Bokelian villages: Muo, Prcanj, Stoliv, Ljuta, and Orahovac. Visiting Perast or the island Our Lady of The Rocks is up to the guest's decision. To visit both places we would need about 90 minutes which is not planned on this trip, but if the guests insist we will stop for a visit it.


We will continue our sailing passing through 250 meters wide Verige (entrance/exit) of the most significant points of the UNESCO area of Kotor and Risan Bay. Here is a ferry route from Lepetane to Kamenari, from one side of Boka Bay to another.

TIVAT BAY


After we pass Verige we will enter at the beginning of Tivat Bay, very popular for sailing and water activities. The biggest island in Tivat Bay is St. Marco Island, which is aligned with Tivat's other small Prevlaka Island. The side of the island with the view on peninsula Lustica and villages Radovići and Krašići have crystal clean water and several quiet oases for a swimming break. The island is entirely covered with greenery. In 1962, a tourist settlement was built there, with 500 Polynesian-style bungalows, and it was a very popular tourist destination, especially for nudists.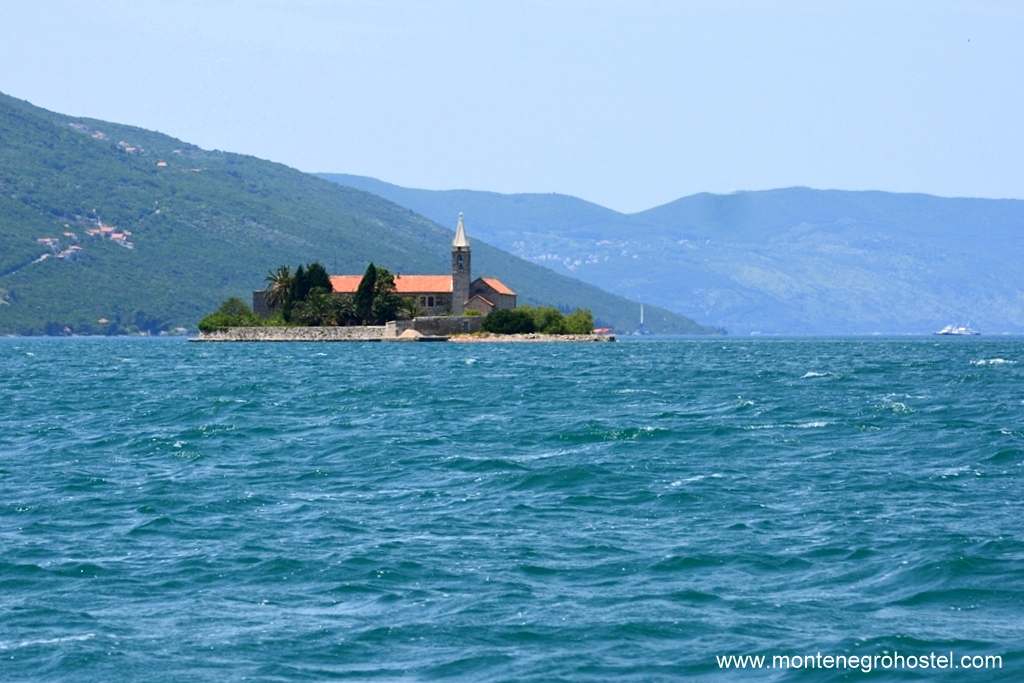 Next to St. Marco is the islet Our Lady of the Grace, the smallest island of the Krtoli archipelago, which is one of the most beautiful sights in Tivat Bay. It is the less famous 'brother' of the Boka's other island, the shrine Our Lady of the Rocks near Perast. However, unlike Perast's island which was artificially created by adding materials onto the underwater reef, Tivat's island has a natural origin. On this small islet (it is only one hundred and fifty meters in size) is a Franciscan monastery and church dedicated to Our Lady of Grace, which was built in the second half of the 15th century. The church is not open to visitors.

The final destination will be Porto Montenegro in Tivat. This is the most luxurious marina in Montenegro and one of the most luxurious marinas in the Adriatic Sea. Despite its luxurious style, Porto Montenegro has very affordable prices in its cafes and restaurants. Also, the lovely promenade in Tivat is located below the marina, and gives to guests many options for a lovely dinner and to enjoy the sunset. Guests will have an option to finish the tour in Porto Montenegro and go back to Kotor by taxi (the distance is 15 km), or they can go back to Kotor with the skipper.
WHAT WILL YOU GET?
Safe and nice sail by our boat BAVARIA 36- Year of built: 2006, Length overall: 11.40 m, Beam: 3.60 m, Beds: 6+2, Cabins: 3+saloon, Fuel tank: 150 l, Water tanks: 150+90 l, Engine: 29 HP.
Equipment: roller-furling mainsail 27 m², Roller-furling genoa 36 m², Tachometer, Depth gauge, Safety equipment, Navigation tools, Bimini top, Cockpit table, Clock and Barometer, Coolbox, Stove – gas, Hot water, Cutlery set, Shore supply 220V, Electric anchor windlass, Toilet, Cockpit shower.
THINGS TO NOTE?
The cut-off time for online booking is 7 days before departure.
Be aware that in the summer season the sun can be very intense, so take care of your skin and health. Boats are fully protected for the safe ride, according to the law. All skippers are licensed.
NOTE: We can also organize a private One Day Sailing Tour. If you have any special requests contact us by e-mail at montenegrohostel@gmail.com

TOUR CONDITIONS
Tour is organized by sailing boat BAVARIA 36
PRICE INCLUDES
Licensed sailing skipper in the English language.
PRICE DOESN'T INCLUDE
Breakfast, lunch, or dinner.
Guests can prepare their own food on the boat, or they can make a stop at some restaurant to have lunch.

For COVID-19 info in Montenegro click HERE
Before you decide to purchase the tour ticket check our itinerary and terms and conditions.
For more info about the tour and booking, contact us on e-mail at montenegrohostel@gmail.com or by phone (Viber and WhatsApp) at +38269039751
Hope you will enjoy our tour:)

MH Travel Agency Team