Full description of the tour you can find HERE.

WHEN AND WHERE WILL WE START?
The tour starts at 8:00 am from the city center of Podgorica. If guests take the private tour we will pick up them from their accommodations. Also, if guests stay in some accommodation close to our route, we can pick them up on the main road. Pick-up location can be flexible sometimes if suits guest better than the standard one.
NOTE: Guests from Budva or Kotor can go on this tour only on demand.
WHERE WE WILL GO?
We will go to Moraca Canyon, Moraca Monastery, Biogradska Gora National Park, and the city of Kolasin.

MORACA CANYON (MORAČA KANJON)


After we start from Podgorica heading to Biogradska Mountain, the road will take us through the beautiful canyon of river Moraca. Moraca River has one of the most beautiful river canyons in Montenegro, which separates the Moracke Planine range (Moraca's Mountains) from the Sinjajevina Mountain range and covers the south-eastern part of the central region of Montenegro. In 30 minutes of the ride, we will enter into the deepest part of the canyon named Platije.


This canyon is smaller than Tara River Canyon but just as impressive. The length of the canyon is 35 km, and the depth reaches up to 1000 meters. For the drivers, this canyon is always a challenge. A narrow road with vertical giant cliffs from one side and a deep abyss with another makes the journey adrenaline. There is a safe car park lot in the deepest part of the canyon where we will make a photo-stop and then we will continue our trip to the Moraca Monastery.

MORACA MONASTERY (MANASTIR MORAČA)


Monastery Morača is the oldest monastery in Montenegro from the 13th of Century set in a spectacular position right next to the canyon of River Moraca. A small stream that flows through the monastery's garden makes a lovely 25 meters high waterfall Svetigora. Thanks to the power of the water the monastery has its own small hydraulic power plant.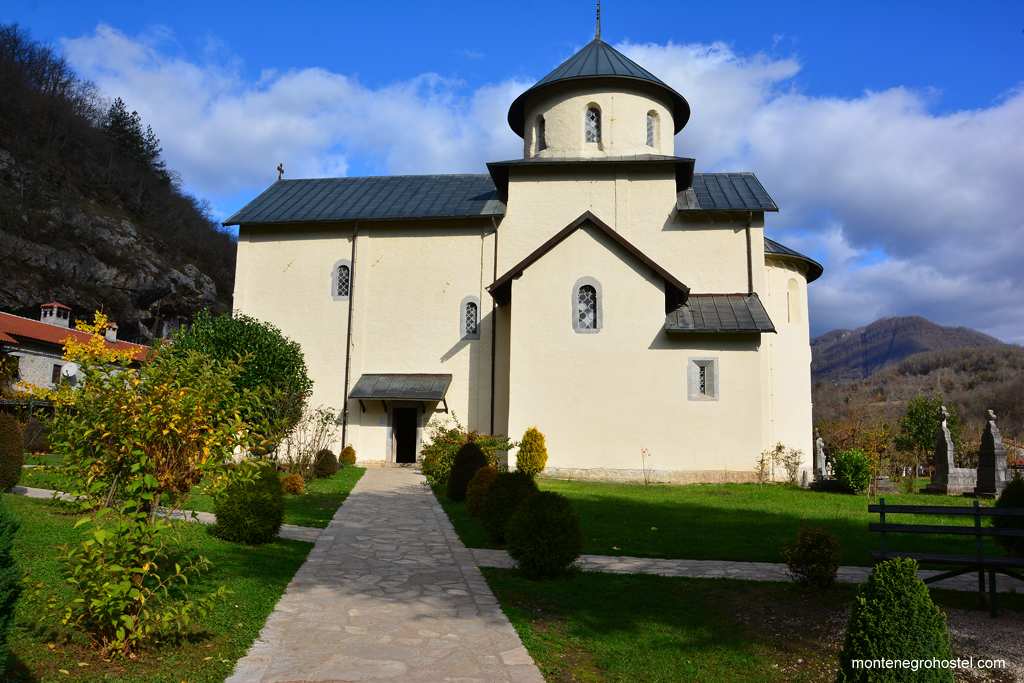 This Orthodox Monastery was built in 1252 by Stefan Nemanja, the founder. The complex has two churches with frescoes from the 13th and the 16th of the century when was monastery renovated. The lovely terrace by the waterfall always attracts visitors for a break with coffee served in the traditional way. Monastery has its own production of honey which guests can buy in the monastery's shop as well as other religious souvenirs. After visiting the monastery we will continue to Biogradska Gora National Park.

BIOGRADSKA GORA NATIONAL PARK


We need 30 minutes of the ride to arrive in Biogradska National Park passing through the virgin forest where the height of some trees reaches up to 50 meters high. The national park has in its heart a beautiful glacier lake known as Biogradsko Lake. The lake is surrounded by mountain peaks three of which have a height of above 2000 meters.


Guests can take a few activities around the lake. The most popular is rowling by the wooden boats, which last around 1 hour. Another activity is walking around the lake through paths into the forest of oak, beech, fir, and elm trees. Small bridges, gazebos, and educational sights are perfectly incorporated into nature. The third activity is watching birds in the lovely area of Biogradska River. There are a few spots where guests can watch birds using binoculars. Also, here are 80 species of butterflies which is 40% of the total number you can find in Montenegro.

For those who want to relax and enjoy nature, there are several wooden benches and tables, where guests can eat their own food in the deep shade of the virgin trees as well as a traditional restaurant by the lake. After visiting Biogradska Gora, we start to heading back and make our last stop in the city of Kolasin.

KOLASIN (KOLAŠIN)

Kolasin is a small mountain town founded by Turks in 1651. It is surrounded by the Mountains Bjelasica, Sinjajevina, Vucje, and Komovi which transformed it into well known a Montenegrin ski center. Traditional houses in pedestrian streets, city squares, and mountain modern hotels make Kolasin very charming. Tara River flows by the town. A stunning Tara canyon starts very close to Kolasin.


Today Kolasin is a tourist center dedicated to ski tourism, eco-tourism on the surrounding mountains, which includes many activities such as jeep safari, horse riding, mountain biking, climbing, and rafting on the Tara river. This town is also known for its very healthy domestic food which guests can try in traditional restaurants. After lunch, we will head back to Podgorica.

NOTE: We can also organize a private Biogradska Gora Tour. If you have any special requests contact us by e-mail at montenegrohostel@gmail.com

TOUR CONDITIONS
Tour is organized by air-conditioned cars, minivans, or minibusses.
PRICE INCLUDES
Licensed tour guide in the English language.
PRICE DOESN'T INCLUDE
Entrance fee for Biogradska Gora National Park of 3 euro
Guests can use their own food and drink (breakfast and lunch are not mandatory).
Before you decide to purchase the tour ticket check our itinerary and terms and conditions.
For more info about the tour and booking, contact us on e-mail at montenegrohostel@gmail.com or by phone (Viber and WhatsApp) at +38269039751
Hope you will enjoy our tour:)

MH Travel Agency Team