Full description of the tour you can find HERE.

WHEN AND WHERE WILL WE START?
The tour departs from Kotor at 8 in the morning, which is the standard time for all our trips. After a maximum of 45 minutes of driving, we will arrive in Budva, where we will pick up guests. We will arrive in Podgorica 60 minutes later, picking up the guests and continuing our journey. If guests take the private tour we will pick up them from their accommodations. Also, if guests stay in some accommodation close to our route (for example guests from Cetinje), we can pick them up on the main road. Pick-up location can be flexible sometimes if suits guest better than the standard one.
NOTE: The number of kayaks is limited so the bigger groups can go on this tour only on demand.

WHERE WE WILL GO?
We will go to Virpazar on Skadar Lake

PLAVNICA


After we start the tour we will head directly to Virpazar, the village of Lake Skadar where kayaking takes place. Guests will get kayaks and they need to put on all necessary protection from the sun heat (hat, sunglasses, and sunbath cream to protect the skin). Sun reflection from the lake water is very intensive and can make red skin, especially on the face.


First, guests will go by the lake channel from Virapazar to the open side of the lake. On the right guests will see the Albanian part of the lake and mountain Rumija, and on the left side guests will see the fortress Lesendro and island Vranjina. Guests can decide on which side of the lake they will prefer to go, through lush vegetation, a rake, a reed, and a sash, where they will be able to see numerous lake birds, and where can stop and swim any time. Lake water is up to 30°C in the summer months.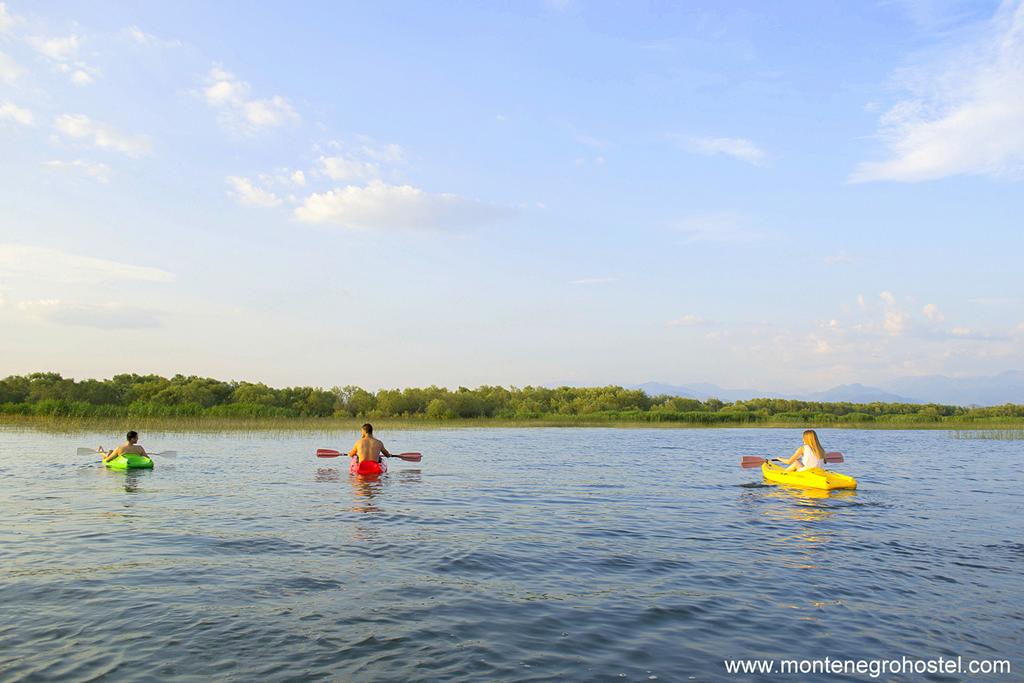 Our kayaking lasts 3 hours. After kayaking, we will head back to Podgorica, Budva, and Kotor.

NOTE: We can also organize a private Kayaking on Skadar Lake. If you have any special requests contact us by e-mail at montenegrohostel@gmail.com

Tour is organized by air-conditioned cars, minivans, or minibusses.
PRICE INCLUDES
Transfer to Virpazar and kayaks (single kayak, two-seater kayak, or three-seater kayak)
PRICE DOESN'T INCLUDE
Entrance fee for Skadar Lake National Park of 4 euro
Guests can use their own food and drink (breakfast and lunch are not mandatory).
NOTE: Guests who want to bring their luggage on the tour and finish the tour in another city (Kotor, Budva, or Podgorica) can easily do that. There is no luggage fee.
COVID-19 RESTRICTIONS
All vehicles are detailed clean and have sanitizers. Drivers and passengers should wear facial masks all the time in the vehicle during the tour.
NOTE: The information above is only relevant for the 2022 season, which has been hit by an epidemic of Covid-19. Every future year we will update new conditions adapted to the current situation until we come out of the pandemic and start living normally as before it.
For COVID-19 info in Montenegro click HERE
Before you decide to purchase the tour ticket check our itinerary and terms and conditions.
For more info about the tour and booking, contact us on e-mail at montenegrohostel@gmail.com or by phone (Viber and WhatsApp) at +38269039751
Hope you will enjoy our tour:)

MH Travel Agency Team